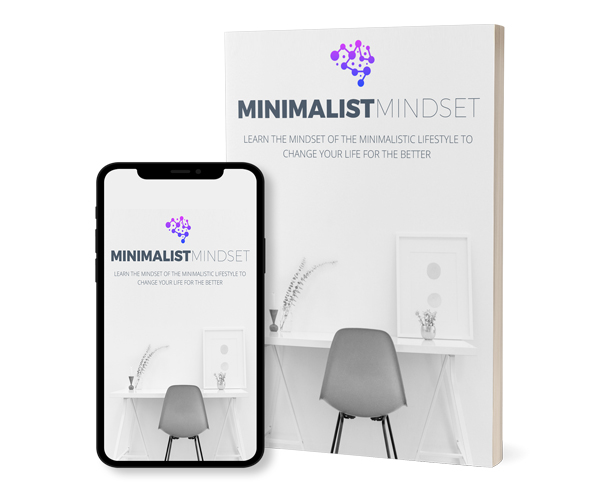 Description:
What Constitutes a Minimalist Lifestyle? Want to try out a minimalist lifestyle? Great! But one second… What exactly is a minimalist lifestyle? What does it mean to have a more minimal décor or routine?
Having too much stuff might sound like an oxymoron to some people, but the reality is that too much of anything can be a bad thing.
In fact, this is pretty much the central maxim of minimalism! What you learn as a minimalist, is that the more you cut back on unnecessary 'stuff' and clutter, the less stress you have, the freer you become, and the more you can appreciate the few items that really matter to you.
What Is This Product About?
What Minimalism Is and What It Is Not!
It is What You Make It.
Changing Your Life For The Better With A Minimalistic Lifestyle.
Do You Have Too Much Stuff? A Checklist for Your New Minimalist Lifestyle.
You Dread The Thought Of Cleaning Surfaces.
You're Considering Moving to Fit Your Things In.
But The Thought Of Doing It Is Terrifying.
You Have Boxes Under The Bed And On The Wardrobe.
You Can't Perform a Mental Stock Take.
Adopting a Minimalist Lifestyle Today.
The Mindshift.
Simpler Is Easier.
Scaling Back.
Mistakes To Avoid When Trying To Become A Minimalist.
Using Technology Too Much.
Not Finding Fulfilment Elsewhere.
How a Minimalist Lifestyle Can Work For You.
Status Versus Fulfilment.
Adopting a Minimalist Lifestyle In 5 Easy Steps.
Reduce Your Surface Clutter.
Cutting Things Out.
Achieving Your Goal Of a Minimalist Lifestyle.
Powerful Ways to De-Clutter Your Life.
Learn To Detach.
Making More Out Of Less.
Make a List Of All The Things You Have Yet To Do.
Plus much more.
Quick Over:
Minimalist Mindset is a 24-page ebook that contains 4,394 words and is found within the self-help and personal development niche.
This is a ready-to-go PLR package that you can re-brand and sell as your own!
A complete up-to-date guide about mastering this topic and something unique you'll be proud to sell as your own.
100% high-quality and professionally written.
Content:
Module 1 – Ebook:
Professionally written and formatted ebook.
24 pages that contain 4,349 words.
Formats: PDF and DOCX.
Module 2 – Opt-in Page:
Squeeze page with an opt-in form.
Thank you download page.
Legal pages (disclaimer, privacy policy, and terms and conditions).
Module 3 – Covers:
6 different styles.
2D and 3D designs.
Source files included.
Formats: JPG, PNG, and PSD.
Module 4 – Licenses:
Your license – Full private label rights.
Your customer licenses – Master resell, resell rights, and personal use.
PLR License:
[YES] Can be sold as it is no less than $7.00.
[YES] Can pass on master resell rights to your customers.
[YES] Can pass on resell rights to your customers.
[YES] Can pass on personal use rights to your customers.
[YES] Can add to a PAID PLR membership site (PU ONLY).
[YES] Can add to a PAID Non-PLR membership site.
[YES] Can be bundled within a product package.
[YES] Can be given away as a bonus.
[YES] Can give away the product to your subscribers.
[YES] Can change/edit the sales page and opt-in page.
[YES] Can change/edit the graphics.
[YES] Can edit the contents of the ebook.
[YES] Can be used as content on your website.
[NO] Can sell private label rights.
[NO] Can add to a free membership site.
[NO] Can just pass away the product for free.
[NO] Add to an eCommerce site with a membership (PU Only).