Emotional Intelligence Increase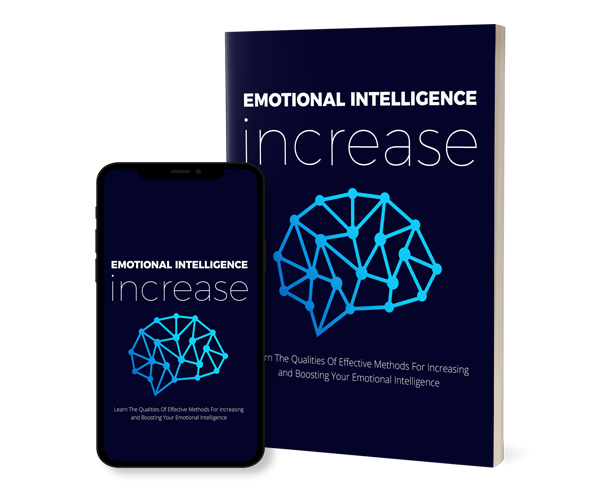 Description:
If you want to succeed in both your professional and personal life, there is a broad range of skills that you need to develop.
While your vision and fresh and creative ideas are critical aspects of success, expanding research shows that emotional intelligence is an incredibly important skill for effective leadership and success.
What Is This Product About?
Increase Your Self-Awareness.
Develop Your Listening Skills.
Show a Genuine Interest In Others.
Develop Your Ability To Manage Emotions.
Develop a Strong Sense Of Appreciation.
Ways To Increase Your Emotional Intelligence.
Find Stress-Relieving Techniques.
Take a Pause Before You Judge.
Become Aware Of How You Feel.
Learn To Take Criticism.
Accept Your Weaknesses.
Signs That You Might Have Low Emotional Intelligence.
Getting In A Lot Of Arguments.
Not Understanding How Others Feel.
Believing Others Are Overly Sensitive.
Refusing To Consider Other Points Of View.
Blame Others For Your Mistakes.
Put Emotional Intelligence To Work.
Practice Deep and Focused Listening.
Start Paying Attention To Body Language.
Avoid Blaming Others.
Check Your Attitude.
Steps For Increasing Your Emotional Intelligence.
Aspects Of Emotional Intelligence Required To Be An Effective Leader.
Empathy and Compassion.
Relationship Management.
Effective Communication.
Emotional Intelligence Is Vital For Leaders.
Self-Awareness, Emotional Management, Social Awareness, Conflict Resolution.Emotional
Intelligence In The Workplace.
An Upset Colleague Finds A Compassionate Ear.
People Can Express Themselves Openly.
People Are Given The Freedom To Be Creative.
Improve Your Social Skills and Increase Your Emotional Intelligence.
Work On Your Communication Skills.
Improve Your Conflict Management Skills.
Improve Your Leadership Skills.
Develop Persuasion and Influencing Skills.
Work on Building Rapport.
Qualities You Need To Develop To Increase Your Emotional Intelligence.
Curiosity, Analytical Mind, Optimism.
Plus much more.
Quick Over:
Emotional Intelligence Increase is a 26-page ebook that contains 4,681 words and is found within the self-help and personal development niche.
This is a ready-to-go PLR package that you can re-brand and sell as your own!
A complete up-to-date guide about mastering this topic and something unique you'll be proud to sell as your own.
100% high-quality and professionally written.
Content:
Module 1 – Ebook:
Professionally written and formatted ebook.
26 pages that contain 4,681 words.
Formats: PDF and DOCX.
Module 2 – Opt-in Page:
Squeeze page with an opt-in form.
Thank you download page.
Legal pages (disclaimer, privacy policy, and terms and conditions).
Module 3 – Covers:
6 different styles.
2D and 3D designs.
Source files included.
Formats: JPG, PNG, and PSD.
Module 4 – Licenses:
Your license – Full private label rights.
Your customer licenses – Master resell, resell rights, and personal use.
PLR License:
[YES] Can be sold as it is no less than $7.00.
[YES] Can pass on master resell rights to your customers.
[YES] Can pass on resell rights to your customers.
[YES] Can pass on personal use rights to your customers.
[YES] Can add to a PAID PLR membership site (PU ONLY).
[YES] Can add to a PAID Non-PLR membership site.
[YES] Can be bundled within a product package.
[YES] Can be given away as a bonus.
[YES] Can give away the product to your subscribers.
[YES] Can change/edit the sales page and opt-in page.
[YES] Can change/edit the graphics.
[YES] Can edit the contents of the ebook.
[YES] Can be used as content on your website.
[NO] Can sell private label rights.
[NO] Can add to a free membership site.
[NO] Can just pass away the product for free.
[NO] Add to an eCommerce site with a membership (PU Only).