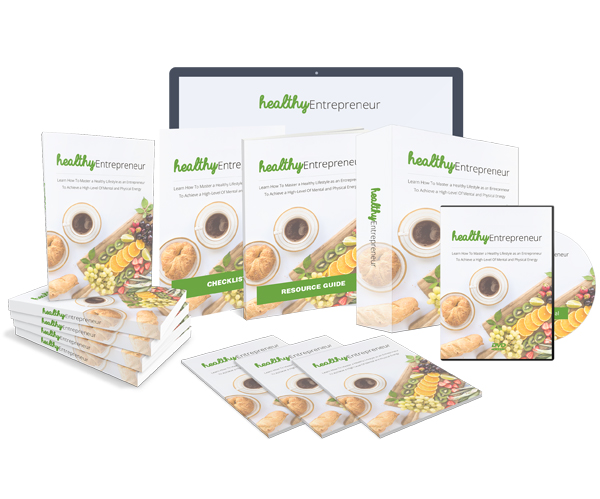 Description:
There are so many bad habits you can have, but you can still try and live a healthy life. People know this but still, neglect themselves for one reason or another. In fact, people tend to take their health for granted.
It's obvious that, in order to be successful in life, that one must take care of their body. Successful entrepreneurs and millionaires must maintain healthy habits to maintain their success and "rich" lifestyles.
Why is that? For an entrepreneur to be successful, they must have a high level of mental and physical energy.
If you lack energy, you can't put in the hard work and make sound decisions that help you to maintain success. A person who is unhealthy is unlikely to be successful – barring a few exceptions to this rule!
What Is This Product About?
Take Back Your Energy and Life.
Is A Balanced Life Even Attainable For An Entrepreneur.
Entrepreneurial Success Depends On Getting Fit and Healthy.
How Can Entrepreneurs Stay Healthy When They Start Their Business.
A Healthy Mind and Body Means A Successful Business.
Understanding The Why Of Being An Entrepreneur.
What Are Some Nutrition Secrets Entrepreneurs Should Be Using.
Give Yourself Daily Challenges To The Routine.
Follow A Healthy Routine To Have A Healthy Mind.
Use Positive Thinking and A Good Strategy For Dealing With Problems.
How can you change your diet and eating lifestyle.
Important Healthy Tips Online Marketers Need To Incorporate.
How Entrepreneurs Can Take Good Care Of Their Health.
What Should You Know To Overcome Obstacles and Other Challenges.
Follow A Healthy Routine To Have A Healthy Mind.
Tips To Become A Healthy and Successful Entrepreneur.
How You Can Communicate With Your Inner Businessperson.
Key Strategies That Can Help You Stay Successful Without Any More Undue Stress.
How You Can Lower Your Stress Levels.
Plus much more.
Quick Over:
Healthy Entrepreneur is a 51-page ebook that contains 10,623 words and is found within the health and business niche. In total, it comes with 10 modules and bonuses.
This is a ready-to-go PLR package that you can re-brand and sell as your own!
A complete up-to-date guide about mastering this topic and something unique you'll be proud to sell as your own.
Comes with all the marketing materials to help you sell the product.
100% high-quality, professionally written, and created.
Content:
Module 1: High-Quality Ebook
Written by English professionals, unique and not copied or rehashed.
Module 2: Checklist
A full checklist outlining all the key topics within the main guide.
Module 3: Resource Cheat Sheet
A full resource cheat guide outlining all the best websites and tools.
Module 4: Sales Page, Thank You Page, and Legal Pages
5-page minisite that is fully responsive and all ready-to-go.
Module 5: Promotional Sale Videos
A Hypnotic sales video to entice your visitors and boost conversions.
Module 6: HQ Advertising Banners
Professionally designed web banners. Use as-is or edit to your needs. They also come with source PSD files, so you can easily edit them.
Module 7: 10 HQ PLR Articles
10 High-quality professional-written PLR articles.
Article Titles:
Female Entrepreneurs' Guide To Success Begins By Taking Care Of Herself.
3 Ways You Can Become More Productive As An Employer or Employee.
3 Key Traits That Show In Successful Entrepreneurs.
Is Depression and Negative Thoughts Seen More With Entrepreneurs.
What Does The Mind Of A Successful Entrepreneur Look Like.
Health vs. Wealth: What Is The Most Important Aspect Entrepreneurs Should Focus On.
3 Common Entrepreneur Diseases Entrepreneurs Tend To Suffer With.
How Shy, Awkward Entrepreneurs Can Be Successful In Their Endeavors.
4 Tips That Every Business Entrepreneur Should Know To Be Successful.
5 Key Ways To Know You Are An Entrepreneur.
Module 8: 10 Social Media Posters
A collection of 10 social media posts, great for social media marketing. They also come with source PSD files, so you can easily edit them.
Module 9: Professional Source Graphic Files
Full source graphic files professionally designed. Easy to modify.
Module 10: License Package
Your license – Full private label rights.
Your customer licenses – Master resell, resell rights, and personal use.
Bonuses:
Bonus 1: PLR Honey
This is a comprehensive guide all about PLR. A great guide to compliment the main PLR product. Within this guide, you'll learn some ways to cash in on private label rights.
There are a lot of different ways to sell and harness the full potential of PLR. Knowing and learning how this can be done will give you a head start in putting your PLR product to good use.
Bonus 2: Private Facebook PLR Group
This is a private members-only Facebook group. By purchasing this product, you'll also be getting exclusive access to become a member of our private Facebook group all about PLR.
Available Upgrades: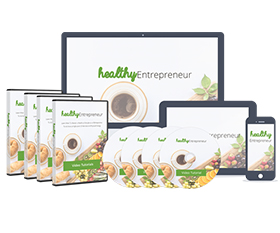 Healthy Entrepreneur Upgrade Package is a step-by-step video and audio course. This is the upgraded package...
PLR License:
[YES] Can be sold as it is no less than $7.00.
[YES] Can pass on master resell rights to your customers.
[YES] Can pass on resell rights to your customers.
[YES] Can pass on personal use rights to your customers.
[YES] Can add to a PAID PLR membership site (PU ONLY).
[YES] Can add to a PAID Non-PLR membership site.
[YES] Can be bundled within a product package.
[YES] Can be given away as a bonus.
[YES] Can give away the product to your subscribers.
[YES] Can change/edit the sales page and opt-in page.
[YES] Can change/edit the graphics.
[YES] Can edit the contents of the ebook.
[YES] Can be used as content on your website.
[NO] Can sell private label rights.
[NO] Can add to a free membership site.
[NO] Can just pass away the product for free.
[NO] Add to an eCommerce site with a membership (PU Only).