Keto Dieting Preparedness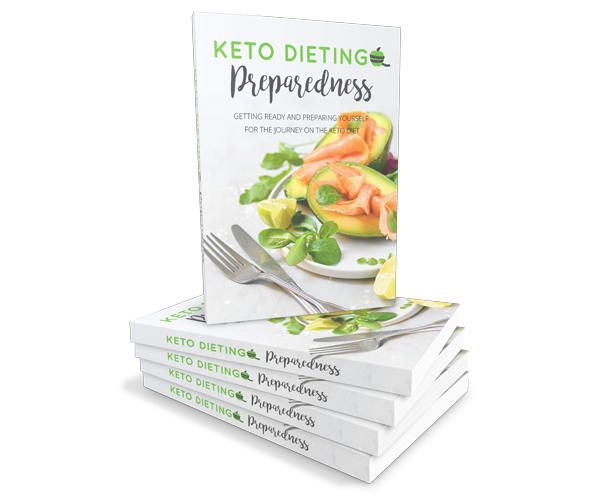 Description:
The ketogenic diet or as some people prefer to call it; the Keto diet or low carb diet is about consuming a lot of protein and fats but fewer carbs.
This diet makes the body send the fats that we consume to the liver, which later transforms into energy to keep the body strong and active for a long time without feeling tired quickly.
The word ketogenic is derived from the word "ketosis" which means the state of the body when it doesn't have enough glucose in it to turn it into energy, so it generates ketones that work as an amazing source of energy for both the body and the brain which makes it a great option for losing weight in a short term.
What Is This Product About?
The Benefits of The Ketogenic Diet.
Increases the level of HDL.
Helps in Alleviating Diabetes Type 2.
Lowers Blood Pressure.
Gum Disease.
What Food Is Your Best Friend In The Keto Diet?
The Keto Diet Guilty Pleasures.
Other Guilty Pleasures.
Making Eating Keto Easy When Eating Out.
Keep An Eye On Your GPS.
Add The Healthy Fats.
Be Wary Of The Sauce.
Choose Your Drink Wisely.
Enjoy Dessert…Coffee?
What is the Keto Flu?
What Does Keto Flu Feel Like?
Top 5 Keto Cookbooks.
Top 5 Keto Diet Apps.
Plus much more.
Quick Over:
Keto Dieting Preparedness is a 19-page ebook that contains 3,865 words and is found within the health and dieting niche.
This is a ready-to-go PLR package that you can re-brand and sell as your own!
A complete up-to-date guide about mastering this topic and something unique you'll be proud to sell as your own.
100% high-quality and professionally written.
Content:
Module 1 – Ebook:
Professionally written and formatted ebook.
19 pages that contain 3,865 words.
Formats: PDF and DOCX.
Module 2 – Opt-in Page:
Squeeze page with an opt-in form.
Thank you download page.
Legal pages (disclaimer, privacy policy, and terms and conditions).
Module 3 – Covers:
4 different styles.
2D and 3D designs.
Source files included.
Formats: JPG, PNG, and PSD.
Module 4 – Licenses:
Your license – Full private label rights.
Your customer licenses – Master resell, resell rights, and personal use.
PLR License:
[YES] Can be sold as it is no less than $7.00.
[YES] Can pass on master resell rights to your customers.
[YES] Can pass on resell rights to your customers.
[YES] Can pass on personal use rights to your customers.
[YES] Can add to a PAID PLR membership site (PU ONLY).
[YES] Can add to a PAID Non-PLR membership site.
[YES] Can be bundled within a product package.
[YES] Can be given away as a bonus.
[YES] Can give away the product to your subscribers.
[YES] Can change/edit the sales page and opt-in page.
[YES] Can change/edit the graphics.
[YES] Can edit the contents of the ebook.
[YES] Can be used as content on your website.
[NO] Can sell private label rights.
[NO] Can add to a free membership site.
[NO] Can just pass away the product for free.
[NO] Add to an eCommerce site with a membership (PU Only).