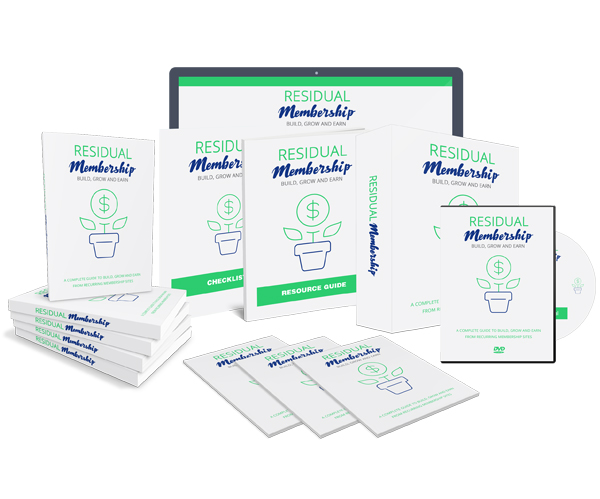 Description:
Most people dream of running a business from home – to make money online without the need of dealing with rush hour traffic or bosses.
The ultimate goal of these dreams is to be self-sufficient and independent. It's a dream that can become a reality, but it takes time and patience. And, it also takes a good idea to make it happen.
One such way is through the operation of a membership site. By operating this type of site, you attain a steady monthly income from a group of visitors who look forward to hearing what you have to say and trusting that you know what you're talking about. These people look to you as an expert in the field – someone they can trust.
What Is This Product About?
What Kinds Of Advantages Does An Internet Marketer Have.
What's The Expense To Begin A Membership Site.
The Popularity Of Membership Sites.
Benefits To Setting Up and Operating A Membership Website.
What Are The Advantages Of A Membership Website.
Free vs. Paid Membership Sites: What Are Their Benefits.
Paid Memberships Benefits.
Free Membership Benefits.
Membership Sites Do Lead To More Money.
What Exactly Is A Membership Site.
Why Are Membership Sites Preferred By Both Owners and Members.
How Are Membership Sites Making Their Money.
Addressing Possible Problems In The Operation Of A Membership Website.
What You Need To Begin The Operation Of A Membership Website.
Does It Take Money To Kick Off Your Membership Website.
What Do You Need To Do To Create and Operate A Membership Website.
Develop Content For Your Membership Website.
Membership Sites Can Produce A Plethora Of Revenue.
What Type Of Information Can Be Used On A Membership Website.
What Makes Membership Sites Such a Worthwhile, Lucrative Venture.
Why Do Consumers Like The Idea Of Membership Sites.
The Popularity Of Membership Sites Only Appears To Be Increasing.
What Can You Offer For Sale On A Membership Site.
A Look At Membership Fees.
A Look At Subscription Renewals.
A Look At Membership Site Growth Rates.
What Should You Know To Begin Your Membership Site.
When You Find Your Subscribers.
How SEO Helps With Ranking Membership Websites.
What Do Search Engines Need For Ranking Websites.
3 Key Techniques To Produce Traffic For Your Membership Site.
Affiliates and Joint Venture Partners.
Setting Up and Creating An Evergreen Niche Website.
A Non-Traditional Method Of Marketing Your Products/Services/Information.
What Is The Interest People Have In Membership Sites.
What Topics Are Ideal For Membership Sites.
How Can You Find A Niche That's Right For You.
What You Must Do To Increase Your Membership Site's Numbers.
Fixed Term Memberships vs. Constant Memberships.
What Are The Benefits and Drawbacks Of A Fixed Membership Site.
3 Things You Must Have For Your Membership.
Ideal Practices To Remember For Your Membership Site.
How To Come Up With A Pricing Schedule.
Putting Together A Highly-Operative Membership Site.
Over-Delivering Leads To Higher Retention Rates.
Plus much more.
Quick Over:
Residual Membership is a 70-page ebook that contains 11,654 words and is found within the internet marketing, online business, and making money online niche. In total, it comes with 13 modules and bonuses.
This is a ready-to-go PLR package that you can re-brand and sell as your own!
A complete up-to-date guide about mastering this topic and something unique you'll be proud to sell as your own.
Comes with all the marketing materials to help you sell the product.
100% high-quality, professionally written, and created.
Content:
Module 1: High-Quality Ebook
Written by English professionals, unique and not copied or rehashed.
Module 2: Checklist
A full checklist outlining all the key topics within the main guide.
Module 3: Resource Cheat Sheet
A full resource cheat guide outlining all the best websites and tools.
Module 4: Mindmap
A great way to give your buyers a visual overview of the training course, pinpointing the main focal points.
Module 5: Sales Page, Thank You Page, and Legal Pages
5-page minisite that is fully responsive and all ready-to-go.
Module 6: High Converting Promo Email Swipes
5 already done for you promotional email swipes that are ready-to-go.
Module 7: Professional Source Graphic Files
Full source graphic files professionally designed. Easy to modify.
Module 8: HQ Advertising Banners
Professionally designed web banners. Use as-is or edit to your needs. They also come with source PSD files, so you can easily edit them.
Module 9: 10 HQ PLR Articles
10 High-quality professional-written PLR articles.
Article Titles:
Common Factor Of Paid and Free Membership Sites.
Effectively Market Your Membership Site.
Free vs. Paid Membership Sites.
Monetize Your Membership Site Even More.
Take and Process Payments.
Tedious and Overwhelming.
The Success Of Your Online Business.
Tips To Help You Create A Membership Site.
Types Of Free Membership Management Scripts.
Why Production Of A Membership Site.
Module 10: Promotional Sale Videos
A Hypnotic sales video to entice your visitors and boost conversions.
Module 11: 10 Unique Top Quality eCovers
A set of 10 high-quality unique ecovers that can be re-branded.
Module 12: 10 Social Media Posters
A collection of 10 social media posts, great for social media marketing. They also come with source PSD files, so you can easily edit them.
Module 13: License Package
Your license – Full private label rights.
Your customer licenses – Master resell, resell rights, and personal use.
Bonuses:
Bonus 1: PLR Honey
This is a comprehensive guide all about PLR. A great guide to compliment the main PLR product. Within this guide, you'll learn some ways to cash in on private label rights.
There are a lot of different ways to sell and harness the full potential of PLR. Knowing and learning how this can be done will give you a head start in putting your PLR product to good use.
Bonus 2: Private Facebook PLR Group
This is a private members-only Facebook group. By purchasing this product, you'll also be getting exclusive access to become a member of our private Facebook group all about PLR.
Available Upgrades: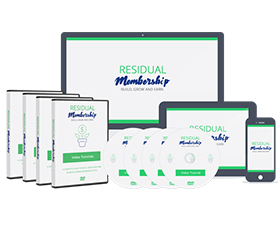 Residual Membership Upgrade Package is a step-by-step video and audio course. This is the upgraded package...
PLR License:
[YES] Can be sold as it is no less than $7.00.
[YES] Can pass on master resell rights to your customers.
[YES] Can pass on resell rights to your customers.
[YES] Can pass on personal use rights to your customers.
[YES] Can add to a PAID PLR membership site (PU ONLY).
[YES] Can add to a PAID Non-PLR membership site.
[YES] Can be bundled within a product package.
[YES] Can be given away as a bonus.
[YES] Can give away the product to your subscribers.
[YES] Can change/edit the sales page and opt-in page.
[YES] Can change/edit the graphics.
[YES] Can edit the contents of the ebook.
[YES] Can be used as content on your website.
[NO] Can sell private label rights.
[NO] Can add to a free membership site.
[NO] Can just pass away the product for free.
[NO] Add to an eCommerce site with a membership (PU Only).