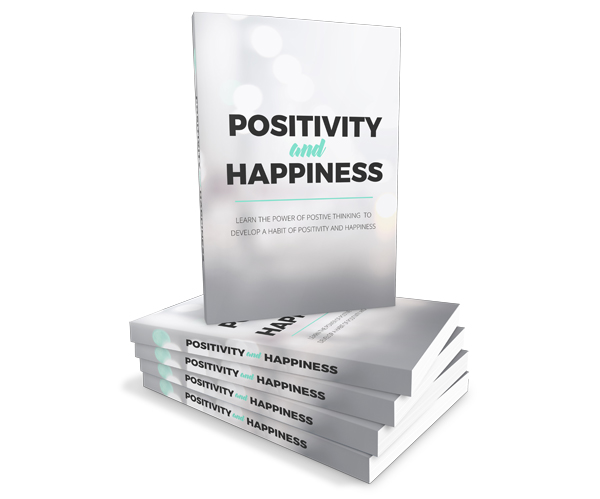 Description:
Do you ever feel like your thoughts are sucking the life and joy out of you? If yes, then your thoughts are most probably leaning towards the negative.
If you want to be happy, then you've got to learn to let go of your negative mindset. You've got to do a complete turnaround and shift your mind to think positively instead.
When you think happy, positive thoughts, you feel much better. You'll probably smile or laugh a bit without you realizing it. When you do this, when you get so giddy from your thoughts, then you're essentially thinking happy and exciting thoughts.
What Is This Product About?
What Living In The Moment Really Means And How It Can Contribute To Your Happiness.
How A Morning Ritual Habit Can Add Positivity To Your Life.
Simple Steps To Long-Lasting Happiness And Fulfillment.
Know What You Really Want.
Live Life To The Fullest.
Learn From Your Mistakes.
Do What You Love To Do.
Be Grateful For What You Have.
Go Outside Your Comfort Zone.
Have Positive-Minded Friends.
Connect With Yourself.
Easy Methods To Have Happy Thoughts Throughout The Day.
Have A Daily To-Do List.
Reward Yourself For Every Small Win.
Look Forward To Making Someone Smile.
Do Something Kind Every Day.
Compliment Someone And Mean It.
Go For A Quick Run.
Hang Out With Happy People.
Become A Positive Thinker In No Time At All.
Embrace The Morning Ritual Habit.
Read Good Books.
Smile And Laugh.
Think Happy Thoughts.
Count All Your Blessings.
Ways Exercise Can Help Develop Your Positive Thinking.
It Boosts Your Energy Levels.
It Helps Improve Your Social Skills.
Better Sleep At Night.
Improves Mood.
Secret Ways To Overcome Negative Thoughts.
Tell Yourself To Stop.
Don't Live In The Past.
Talk To Yourself Positively.
Surround Yourself With Positive People.
Plus much more.
Quick Over:
Positivity and Happiness is a 20-page ebook that contains 3,431 words and is found within the self-help and personal development niche.
This is a ready-to-go PLR package that you can re-brand and sell as your own!
A complete up-to-date guide about mastering this topic and something unique you'll be proud to sell as your own.
100% high-quality and professionally written.
Content:
Module 1 – Ebook:
Professionally written and formatted ebook.
20 pages that contain 3,431 words.
Formats: PDF and DOCX.
Module 2 – Opt-in Page:
Squeeze page with an opt-in form.
Thank you download page.
Legal pages (disclaimer, privacy policy, and terms and conditions).
Module 3 – Covers:
4 different styles.
2D and 3D designs.
Source files included.
Formats: JPG, PNG, and PSD.
Module 4 – Licenses:
Your license – Full private label rights.
Your customer licenses – Master resell, resell rights, and personal use.
PLR License:
[YES] Can be sold as it is no less than $7.00.
[YES] Can pass on master resell rights to your customers.
[YES] Can pass on resell rights to your customers.
[YES] Can pass on personal use rights to your customers.
[YES] Can add to a PAID PLR membership site (PU ONLY).
[YES] Can add to a PAID Non-PLR membership site.
[YES] Can be bundled within a product package.
[YES] Can be given away as a bonus.
[YES] Can give away the product to your subscribers.
[YES] Can change/edit the sales page and opt-in page.
[YES] Can change/edit the graphics.
[YES] Can edit the contents of the ebook.
[YES] Can be used as content on your website.
[NO] Can sell private label rights.
[NO] Can add to a free membership site.
[NO] Can just pass away the product for free.
[NO] Add to an eCommerce site with a membership (PU Only).