Intermittent Fasting Simplicity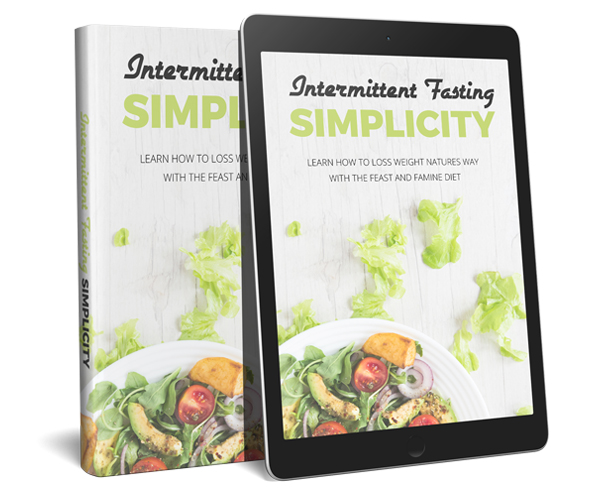 Description:
It's almost impossible to hide from the news and discussion about the obesity epidemic that's taking both lives and shattering the quality of life worldwide. It's in the papers, on television, and being blogged about on the internet almost endlessly.
If that's not enough, unless you're blind it's hard to walk the streets of any big city or small town and not see the end product of this epidemic firsthand.
What Is This Product About?
Many People Eat Way too Much Way Too Often.
A Widespread Avoidance of Exercise.
Lack of Quality Sleep.
Medicine and Drugs.
What Is The Feast And Famine Diet?
Choose Your Fasting Schedule.
Feasting Guidelines.
Famine Guidelines.
Staying Hydrated.
The Beginning Of The Feast & Famine Diet.
The Benefits Of Intermittent Fasting.
Quickly Cut Body Fat Safely.
Easy To Follow And Manage.
Enhanced Mental Function.
Improve Insulin Levels.
Frees Up Time On Famine Days.
Getting Yourself Ready To Begin.
If Possible, At First Food Shop More Often.
If You Skip A Day Just Get Right Back On Schedule.
Throw Out Your Past Diet Experiences.
Common Beginner Mistakes When Intermittent Fasting.
Putting Yourself Unnecessarily Around People Who Don't Respect Your Diet Efforts.
Tips To Begin Your Diet Journey Today.
Look At Yourself Naked In The Mirror.
Write Your Goals Down As Clearly And Detailed As Possible.
Plus much more.
Quick Over:
Intermittent Fasting Simplicity is a 20-page ebook that contains 3,880 words and is found within the health and dieting niche.
This is a ready-to-go PLR package that you can re-brand and sell as your own!
A complete up-to-date guide about mastering this topic and something unique you'll be proud to sell as your own.
100% high-quality and professionally written.
Content:
Module 1 – Ebook:
Professionally written and formatted ebook.
20 pages that contain 3,880 words.
Formats: PDF and DOCX.
Module 2 – Opt-in Page:
Squeeze page with an opt-in form.
Thank you download page.
Legal pages (disclaimer, privacy policy, and terms and conditions).
Module 3 – Covers:
5 different styles.
2D and 3D designs.
Source files included.
Formats: JPG, PNG, and PSD.
Module 4 – Licenses:
Your license – Full private label rights.
Your customer licenses – Master resell, resell rights, and personal use.
PLR License:
[YES] Can be sold as it is no less than $7.00.
[YES] Can pass on master resell rights to your customers.
[YES] Can pass on resell rights to your customers.
[YES] Can pass on personal use rights to your customers.
[YES] Can add to a PAID PLR membership site (PU ONLY).
[YES] Can add to a PAID Non-PLR membership site.
[YES] Can be bundled within a product package.
[YES] Can be given away as a bonus.
[YES] Can give away the product to your subscribers.
[YES] Can change/edit the sales page and opt-in page.
[YES] Can change/edit the graphics.
[YES] Can edit the contents of the ebook.
[YES] Can be used as content on your website.
[NO] Can sell private label rights.
[NO] Can add to a free membership site.
[NO] Can just pass away the product for free.
[NO] Add to an eCommerce site with a membership (PU Only).