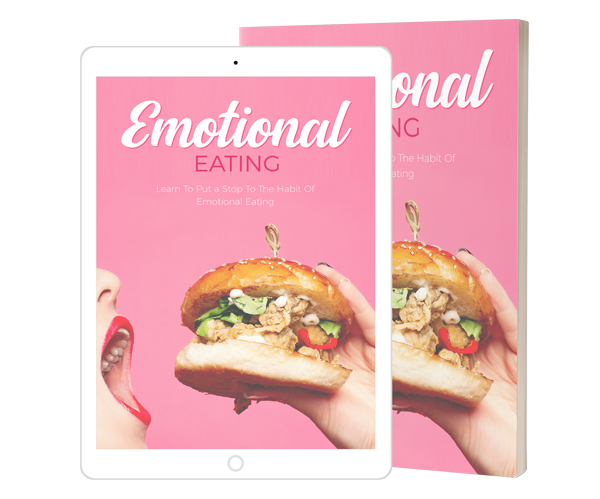 Description:
Emotional overeating disorders can be difficult and devastating for those who suffer from them. What makes this happen? Why is it that some people, knowingly or unknowingly, turn to food for comfort? Here are some thoughts and ideas on those questions.
Emotional overeating disorder is a general term that refers to any of various eating habits where genuine hunger is not the motivational factor.
It is more common among women than men, but men are not immune – especially young men in their teens and twenties. Those who suffer from this disorder associate food with emotional comfort and will turn to eat to escape negative feelings.
What Is This Product About?
Could You Have an Eating Disorder?
Mindless Eating.
Feelings Of Guilt and Shame.
Eating In Secret.
Always On My Mind.
Feeling Sick.
Identify Your Triggers.
Emotional Overeating: Knowing Where to Turn.
Common Treatments.
Tips – What You Can Do.
What Not To Do.
Tips On Overcoming Emotional Eating.
Keep a Food Diary.
Are You Under a Lot Of Stress?
Get Advice From a Professional.
How Can It Be Overcome?
Lifestyle Choices: Learn To Overcome Emotional Eating.
How To Eat To Stop Emotional Overeating.
Your Grocery List.
Don't Crash Diet.
Eat Regular Meals.
Nutritional Treatments For Emotional Eating.
Nutritional Deficiencies.
Weight Gain From Emotional Eating.
Seemingly Unexplainable Weight Gain.
A Sudden Urge.
Specific Cravings.
Alternative Therapies For Emotional Eating.
Weight Loss Surgery: Can It Help with Emotional Eating.
Plus much more.
Quick Over:
Emotional Eating is a 27-page ebook that contains 4,607 words and is found within the self-help and health niche.
This is a ready-to-go PLR package that you can re-brand and sell as your own!
A complete up-to-date guide about mastering this topic and something unique you'll be proud to sell as your own.
100% high-quality and professionally written.
Content:
Module 1 – Ebook:
Professionally written and formatted ebook.
27 pages that contain 4,607 words.
Formats: PDF and DOCX.
Module 2 – Opt-in Page:
Squeeze page with an opt-in form.
Thank you download page.
Legal pages (disclaimer, privacy policy, and terms and conditions).
Module 3 – Covers:
5 different styles.
2D and 3D designs.
Source files included.
Formats: JPG, PNG, and PSD.
Module 4 – Licenses:
Your license – Full private label rights.
Your customer licenses – Master resell, resell rights, and personal use.
PLR License:
[YES] Can be sold as it is no less than $7.00.
[YES] Can pass on master resell rights to your customers.
[YES] Can pass on resell rights to your customers.
[YES] Can pass on personal use rights to your customers.
[YES] Can add to a PAID PLR membership site (PU ONLY).
[YES] Can add to a PAID Non-PLR membership site.
[YES] Can be bundled within a product package.
[YES] Can be given away as a bonus.
[YES] Can give away the product to your subscribers.
[YES] Can change/edit the sales page and opt-in page.
[YES] Can change/edit the graphics.
[YES] Can edit the contents of the ebook.
[YES] Can be used as content on your website.
[NO] Can sell private label rights.
[NO] Can add to a free membership site.
[NO] Can just pass away the product for free.
[NO] Add to an eCommerce site with a membership (PU Only).